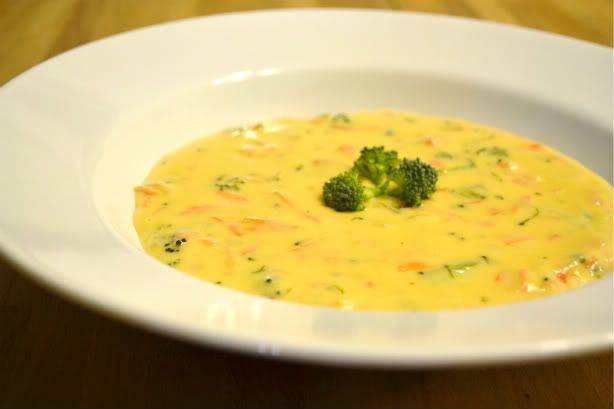 Many moons ago I worked at a small popular sandwich shop and one of the most cherished items on the menu was the broccoli and cheddar soup. I never really gave this soup much thought until recently I decided that I DO love this cheesy concoction. Before I start, let me give you my disclaimer. If you are looking for a light and health soup, do not make this one. This soup is rich, creamy and loaded with TONS of delicious calories :)
If you want healthy, go eat a piece of celery.
So gather up:
1/2 an onion finely chopped
2/3 stick of butter
1/3 cup flour
1 can evaporated milk
1 1/2 cup heavy whipping cream
1 1/2 cup whole milk
2 tsp chicken bouillon granules
1/2 garlic powder
1 1/2 cup grated carrots
1 1/2 finely chopped broccoli
8 oz grated mild cheddar
Make a roux by sauteing your onions with the butter then adding the flour and cooking for about 2-3 min. Stir constantly. Add all your liquids, spices and whisk to dissolve the flour bits. Cook until sauce is thickened, whisking often.
Zap your veggies in the microwave for about 5 min or until soft (cover your microwave dish with a plate to keep the steam in).
Gradually whisk in cheese until your soup is smooth, then stir in your veggies.
enjoy